PRESENT
Ch. "URIEL DE L'ABBAYE DE SABLE"
Best Youth at the National in two continents!
Ch. "Uriel de l'Abbaye de Sable" BH -SchH3- IPO3-FH- HD1

Born on 12/09/96 FCI/AKC/UDC Registration DNA Profile # V107008 - 4 months in the picture - Breeder: Martine Harmegnies-Belgium

Sire: Ch. Ioab-Iabes Del Littorio IPO 1 - ZTP

Dam: Pace Phelia Del Littorio HD 1
Shows:

VICE YOUTH World Champion IDC 1997
BEST YOUTH-Reserve WINNER DOG-UDC National-St. Louis, MO 1998
1st Excellent "PROMESSA AIAD" 1998-Italian Dobermann National Specialty Aiad

2nd Excellent-CAC Reserve-R.Anw.VDH-Dobermann Specialty "Burghausen" 1999 Germany

1st Excellent-CAC Reserve-Anw.VDH-Dobermann Specialty "Landesgruppen-Siegerschau" Brandenburg 2000 Germany

3rd Excellent working class-"D.V. Siegerschau" National 2001 Germany

7th Excellent working class-IDC-World Championship 2002 (774 Dobermann in catalog) Italy
Best Reproduction/Progeny Group at the American Dobermann Association (ADA) National Sieger Show Championship 2003, Washington. Judge: Hans Wiblishauser, DV-Germany.
Critique of Judgment at the UDC National in St. Louis 1998. Judge: Mr. Norbert Daube (Germany) D.V. Head Breed Warden. General Impression: Elegant-Compact-Muscular-Powerful-Masculine. Size: Large. Body: Square. Bone: Heavy. Condition: Hard. Coat: Smooth-Hard-Thick-Short. Markings: Sharply defined. Skull: Long-Masculine. Muzzle: In proportion-filled under eyes. Under jaw: Full. Planes: Parallel. Stop: Correct. Lips: Well pigmented. Eyes: Almond-shaped-medium. Ears: Carried erect. Dentition: 42 correctly placed. Bite: Scissor. Neck: Muscular-could be dryer. Back-Top line: Short-Firm. Rib Spring: Sprung. Hips: Broad. Underline: Lacks tuckup. Forechest: Broad. Depth of Chest: Below elbow. Shoulders: well laid back. Front legs: Straight to pastern. Pasterns: Firm. Front Feet: Catlike. Croup: Well filled. Tailset: Correct. Rear Angulation: Balances forequarters. Hocks: Correct. Hind feet: Catlike. Movement: Free-correct reach and drive. Temperament: Confident-Calm. Rating: Excellent.
| | | |
| --- | --- | --- |
| | | |
The bloodline of "Uriel" is Line Breeding 3-3 on "Ch. Quarz del Littorio" SchH3 - ZTP1A , and 4-4 on "Ch. Hertog Alfa Le Dobry." The mother line, trough "Pace Phelia del Littorio", takes us to "Ch. Ebo v. Groote Maat", from which come good proportions and elegance. The father line, trough "Ch. Ioab Iabes del Littorio", goes back to "Ch. Orson von Roveline", which contributes to Uriel's excellent structure and solidity. The bloodlines of both sire and dam are linked together respectively at the 3rd and 4th generation with champions "Quarz-Hertog Alfa". The influence of "Quarz del Littorio" emerges from Uriel's parallel head with correct length, his energetic working drive, and his balanced temperament. "Ch. Hertog Alfa Le Dobry" has given good pigmentation and showing talent to the line. "Ch. Quarz" and "Ch. Hertog Alfa" with "Ch. Ebo v. Groote Maat" lead us to the important stud male of the modern Dobemann, "Ch. Bryan v. Forell."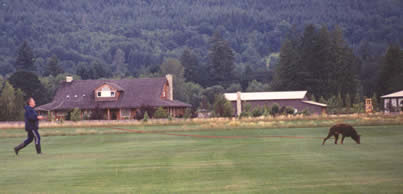 Working:
4/20/02 Cascade Working Dog Association-1st place SchH3-Judge: Bill Szentmiklosi-USA
6/15/02 Twin County Schutzhund Club-1st place High in trial SchH3-Judge: Bill Knox-USA
7/31/02 Cascade Working Dog Association-2nd place SchH3-Judge: Franz Dorr. SV
9/14/02 International SchH. Trial "G.C.V.L.Delaini" Italy-1st place IPO3-Judge: Carlo Mezzetti-FCI
10/5-6/02 Pacific Northwest Regional SchH3-FH Championship-4th place SchH3-Judge: Raino Fluegge SV
10/26/02 Great Seattle Working Dog Association-1st place SchH3 High in Trial-Judge: Jim Elder-USA
CWDA 2002 Vereinsmeister-IPO 3
10/17/03 American Dobermann Association Winner Cup National Meistershaft, Washington. FH1 (90). Judge: Rainer Friedrich, DV-Germany.
| | |
| --- | --- |
| | |
| | |
| --- | --- |
| | "Uriel" is one of the best stud males living today. His outstanding balance (28 1/8" high, 104 pounds) makes him a very interesting Dobermann for the breed. In reproduction, "Uriel" is preferred for improving proportions, solidity, chest development, front angulations, type, and fight drive. He has been bred with different females and has always given excellent offspring, among which I would like to remember the following dogs: |